About Us
Bosera Capital Management Co., Ltd. (Bosera Capital), a 100%-owned subsidiary of Bosera Funds, was established in Shenzhen, Guangdong Province in Feb 2013 with the approval of the China Securities Regulatory Commission. With a registered capital of Rmb850mn, we mainly focus on specific-asset management such as non-standard asset investment and financing, asset securitization, FOF/MOM asset allocation, equity and private placement and other CSRC-licensed businesses.
According to the Provisions on the management of subsidiaries of fund management companies, the company has, under the leadership of the Board of Directors, established a balanced management structure where operations managers are accountable and the front, middle and back offices are relatively independent with their own duties and responsibilities.
Bosera Capital has since its establishment achieved outstanding performance and won some major awards. It was awarded the Asset Management Company in China with Best Growth Potential by the National Business Daily, and the Asset Management Leaders Award and the Best Investment Banking Thinking Award by the Alpha Think Tank. The company has provided services to over 1,000 institutional clients and 55000 high-net-worth individuals, with cumulative management scale over Rmb 2100bn.
Depending on synergistic effect of CMG and brand advantage of Bosera Fund , Bosera Capital will accelerate the transformation of active management, promote diversified business development, focus on customers and adhere to market-oriented, international, and versatile development. We are committed to building a first-class asset management company with global perspective.
Equity Structure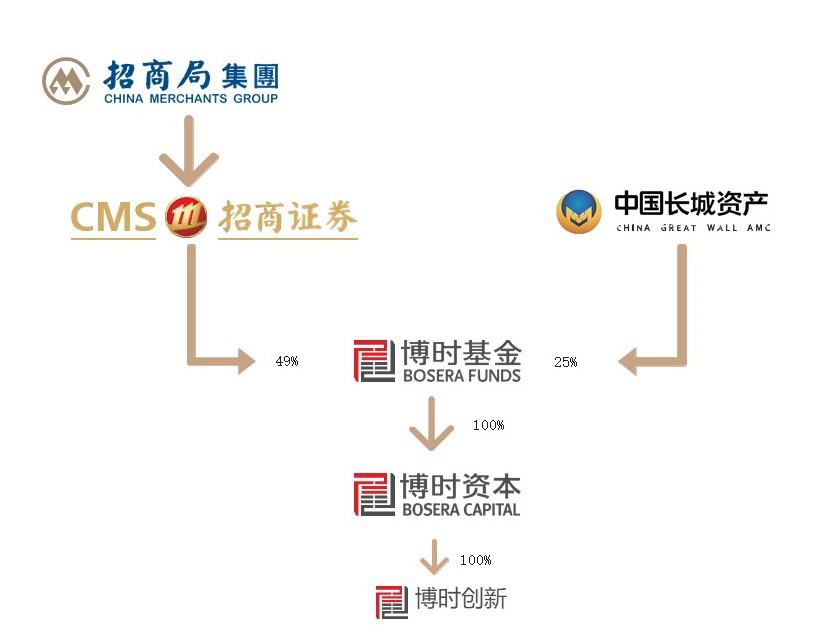 Honors & Awards
Year 2015, Jinding Award: Subsidiary with Best Growth Potential
Year 2016, Alpha Think Tank Asset Management Leaders Award and The Best Investment Banking Thinking Award
Year 2016, Golden Sail Award:ABS Most Valuable Manager
Year 2016, the Bosera Capital - Ping An Bank Orange Xin Orange E Asset Support Special Project won the Asset Securitization JiePu Award - Accounts Receivable: Most Popular Product and Best Risk Control Product
Year 2017, the Huifu Fuhua Jinbao Building Asset Support Special Plan won the China Securitization Forum Annual OTC Excellent Product Award
Year 2017-2018, Asset Securitization JiePu Award-auto fnance: the most influential product on market.
Year 2019, Qianhai outstanding economic contribution commendation: Qianhai functional headquarter enterprise of the year.
Organization Structure